Projects/Gallery
Bahia Blanca, Gran Canaria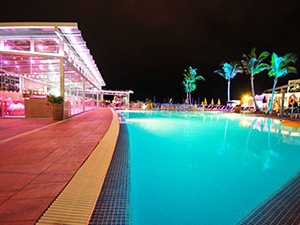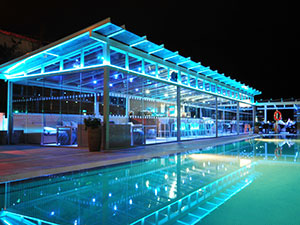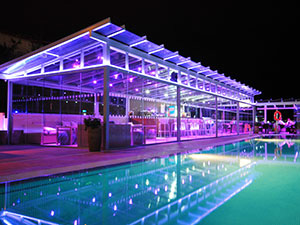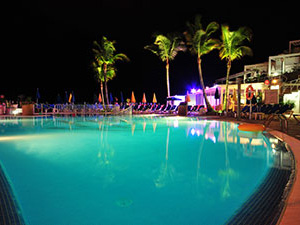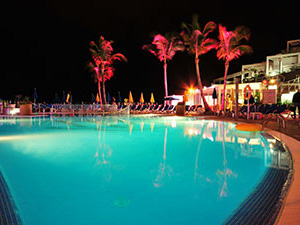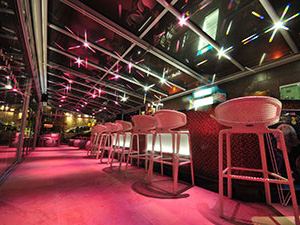 Colour changing LED lighting was installed to this resort:
Palm trees
These are illuminated by using in-ground uplighters, the lights are controlled by a centrally mounted controller. It is possible for these lights to change colour to music.
Bar building
The glass and aluminium building made mounting recessed lights difficult, it was requested that lights were LED and colour changing lights was desirable. We had some housings for the lamps manufactured, these were attached to the building for a semi-recessed solution.
Glasshouse exterior
This is illuminated by the use of LED colour changing flexistrip. We had some aluminium channels powder coated to match the building, the LED flexistrip was then installed within this channel.
All the glasshouse lighting is controlled by a centrally mounted controller, they are dimmable and can change colour either manually, by a set sequence or they may be connected to a music source so the colour changes along with the music.
In addition, we replaced the existing halogen car park lights with LED street lanterns, providing much better illumination and delivering significant energy savings. All lighting is switched by the use of a solar timeclock to prevent them being switched on during daylight hours.
Some amenity lighting was installed, again these are colour changing lamps, because of the close proximity to the palm trees, these are programmed to copy the colour of the tree illumination.